產品特性:
採用CREE XPG3/Nichia 219C LED

最大輸出:220流明

最大光強:760CD (55m)

工作電壓:0.6--1.8V

驅動電路:採用極致效率恆流電路

材料:採用進口實心航空鋁材,一次加工成型

表面處理:軍規三級硬質氧化

雙面鍍膜防刮光學鏡片

符合IPX--8防水標準(水下2米)

2米防摔能力

尾部磁吸功能

選用電池,可充電AAA電池/AAA鹼性電池
參數:
長度72mm

頭部直徑:20mm

重量:32克(不含電池)
配件:
Features:
1. Multi Purpose Flashlight - "L" shape design that together with adjustable elastic headband, a reversible clip and a sufficiently powerful magnet in the tail, offers us an almost infinite possibilities of use: it is comfortable , wear on the head, in the hand, on a table, hooked in trouser pocket, shirt, a cinch Of a backpack, side of the car, refrigerator, any small field house, tent ...
2. Incredibly compact and lightweight but powerful AAA Headlamp - weighs just 1.9 oz before battery installation, but adopts CREE XPG3 LED, or high CRI Nichia 219C LED, Max. 220 Lumens oupput in Turbo, power by 1x AAA battery
3. Multi-brightness levels available: Moonlight, Low, High, Turbo, Strobe, SOS, Beacon.
4. Lock out & Engineering mode function: Lock out can prevent the light accidental turn on. Engineering Mode is able to program the lowest "Moonlight" from many possible, you can select comfortable moonlight for yourself.
5. Most efficiency constant current circuit and unique heat dissipation copper structure also make Manker E02H significantly different with other lights.

Specification:
Emitter: CREE XPG3 LED / Nichia 219C LED, CRI >90
Maximum output: 220lumens ( CREE XPG3 version)
Maximum output: 180lumens (Nichia 219C version)
Maximum beam intensity: 760cd
Maximum beam distance: 55meters
Working voltage: 0.6-1.8v
Water proof: IPX-8, 2M
Impact resistance: 2 meters
Magenetic tailcap
Driver: Most efficiency constant current circuit
Material: Aircraft-grad aluminum body
Surface treatment: Premium Type III hard-anodized anti-abrasive finish
Lens: Toughened ultra-clear glass lens with anti-reflective coating
Dimensions: 72mm (length) x 20mm (Head diameter)
Weight: 56gram
Accessories: o-ring *1, lanyard *1, user manual *1, pocket clip *1, headband *1

Brightness levels & runtime:
Moonlight 0.6lumens 64hrs
Low 16lumens 10hrs
High 70lumens 2hrs
Turbo 220-70lumens 3min-1.8hrs
Strobe 220lumens
Operation: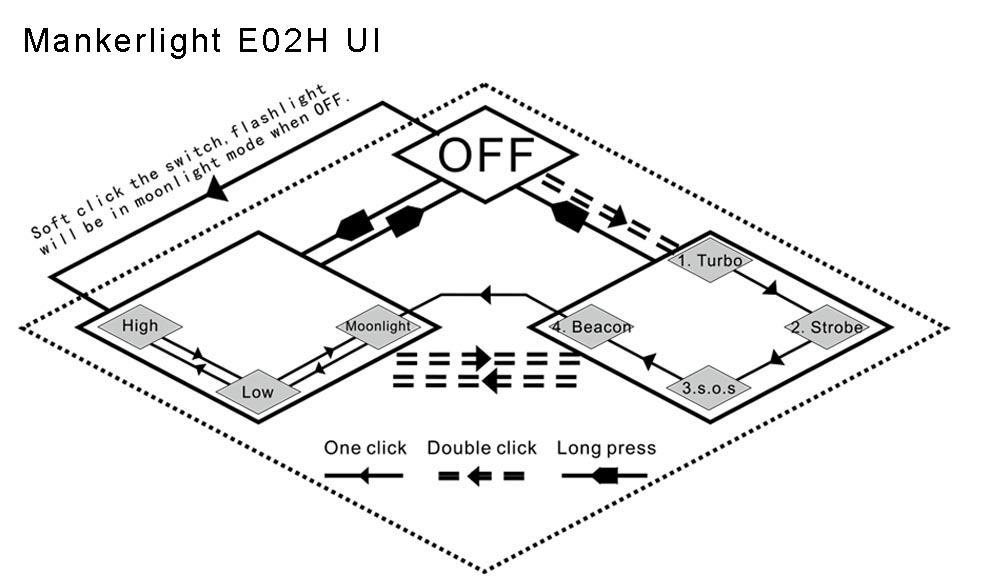 Lock out:
One click - Double - Triple from any mode to lock out the flashlight.

Engineering Mode (Choose output level for moonlight mode):
Quick click for 4 times from any mode to get access to engineering mode. One click to check different levels and long pres to make your final choice.